Interactive fiction, game books, choose-your-own stories - books where the reader controls the story are fun no matter what you call them! You might be surprised to know that there are a ton of interactive books these days - not just the old Choose Your Own Adventure paperbacks.  Join us as we look at the many different kinds of interactive stories you can get from the Kenosha Public Library.  If you missed yesterday's post, you can find it here!
Chapter Books
Elementary- and middle-school-aged kids have historically gotten most of the interactive books in the world, and it's easy to see why.  Have a kid who'll devour books whole?  Give them one that they can read over and over!  Have a kid who hates books?  Tell them that this isn't like other books and watch them take control of their reading experience.  Just about everyone will enjoy an interactive story.
And a note to grownups: While we keep these books in the Juvenile collections, these books are fun whether you're 8 or 98!  Don't feel silly if these titles tempt you - check them out!
The Original
Remember Choose Your Own Adventure?  Not only do the books still exist, there are new ones  being written! For readers somewhere between picture books and chapter books, give the Choose Your Own Adventure: Dragonlarks books, such as The Lake Monster Mystery, a try.
Stronger readers will love new series within the Choose Your Own Adventure library. Choose Your Own Adventure Spies: James Armistead Lafayette puts kids in the story of a real-life spy who worked for American freedom during the War of Independence, even though he was himself enslaved. Other spies in the series range from the familiar (Harry Houdini!) to the lesser-known (Mary Bowser and Noor Inayat Khan!).
Want to go classic?  The original-style stories are still out there, and they're still super fun.  Try out The Rescue of the Unicorn for an exciting fantasy adventure, or Race Forever for an action-packed story that takes inspiration from street racing. Or, if you want to see all the Choose Your Own Adventure options at once, check out our CYOA series listing, where you can browse and place holds on old favorites and new reads.
Franchises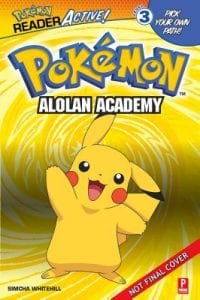 It might be easier to list favorite series and characters that haven't gotten the interactive-fiction treatment.  Carmen Sandiego, Scooby-Doo, Oregon Trail, Star Wars, Lego Star Wars, Goosebumps, American Girl, Batman, and Pokemon are just a few popular franchises with interactive stories in our catalog.  These books tend to be short, exciting, and full of familiar characters and situations, making them great choices for kids who are reluctant to read for fun.
Of course, that's assuming your eyes aren't bugging out at the thought of all these different options.  Overwhelming?  Yeah, it's a lot for us, too!  Fortunately, there are a few ways to make it easier to dig through all these different choices:
Use the "Plot-your-own stories." subject heading.

  You might not often search by subject headings, but they can be helpful! The phrase "Plot-your-own stories" is attached to most of our interactive books, so you can use it to browse through almost 500 different titles.  (Don't want to type the search in yourself?  Just click that link up there.)

Search "[Franchise] you choose," "[Franchise] pick path," or something similar.

If you know your kid loves Superman, searching "Superman you choose" pulls up books like

Metallo Attacks!

  This is the quickest way to find out from our website if we have an interactive book about a specific character.

Ask us!  KPL staff will be happy to help you find interactive stories about subjects you love.  If we don't have your favorite character, never fear - we can still help you find a book you'll love reading.
Nonfiction
Believe it or not, you can now use interactive stories to trick kids into learning stuff!  The YOU CHOOSE brand of books started out as a way to give kids a first-person experience of
history, with titles like The Great Depression: An Interactive History Adventure.  These days, their collections include history, prehistory, mythology, ecology, astronomy, extreme sports, and famous unsolved mysteries.
These books are a great jumping-off point for reluctant readers, especially if they're struggling to get into nonfiction.  The narrative structure keeps the facts from getting too dry, and our shelving system ensures that a kid who ends up fascinated by World War II spies or the Iditarod sled-dog race can easily find more books on the subject.
Other publishers have gotten in on the fun, too!  For instance, check out the Choose Your Own Career Adventure series for exciting, fact-based stories about what it's like to be an Olympic athlete, a Broadway performer, or even the President of the United States.  
Graphic Novels
Want some pictures in your interactive fiction?  Comic book creators have you covered!  Jason Shiga's Meanwhile is a classic that puts you in a mad scientist's lair and lets you play around with the inventions you find.  Will you test out mind-reading, time travel, or the Killitron 3000?  For more great interactive reads, check out his brand-new Adventuregame Comics series, starting with Leviathan.
More of a fantasy fan?  Try the Iron Magicians, where you'll race against time to save Paris in time for the 1889 World's Fair. If you fail, the city's steampunk-inspired mana crystals won't keep the city's machines running!  For a fairy-tale spin, check out Hocus & Pocus by Manuro, where you'll get to pick your own magical animal companion and work through twisty puzzles in Grimm's Woods.  Knights Club is another great adventure, especially for kids who enjoy Lincoln Peirce's Max & the Midknights books.  In it, you're challenged to become a member of the Royal Order of Knights - it's harder than it looks!
And if the advent of spooky season has you hankering for some (light!) horror adventures, you have to check out Twisted Journeys. With titles like The Goblin King - where you have to fight to escape a scary fairyland - and Captured by Pirates - where you're, uh, captured by pirates - you'll find adventure and scares a-plenty.