The Kenosha Public Library is the ultimate possibilities place. What other venue is open to everyone, requires no fee to enjoy the services, provides resources on almost any topic, and showcases programming for all ages?
Whether you love to read or are working on early literacy skills —we have resources and staff to help you and your family at whatever level is right for you. But today's library is about more than just reading. We offer life-long learning through classes, events, an accessible collection, and even play. We want you to experience the joy of discovery here - be sure to visit all the interactive children's areas, stroll through our curated shelves, or sign-up for a free program or two! We have four neighborhood locations and two bookmobiles, ready to greet you.
Staff are here to connect you to the information you need. From technology training to financial literacy, learning a language, job-hunting, test-prep, homework help, navigating new stages of life, and small-business resources—we can help you reach your goals.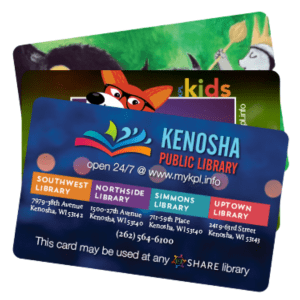 It all starts with your library card...
Signing up online for a library card gives you instant access to digital items and allows you to place holds to pick up at your neighborhood library location.
Your library card is a great travel companion!
As you travel throughout Wisconsin, you'll find that your library card is good at many beautiful locations! Visiting our friends in Racine, Lake Geneva, or even Beloit? Your Kenosha Public Library card works at their libraries and you can borrow materials and return them here when you get home.